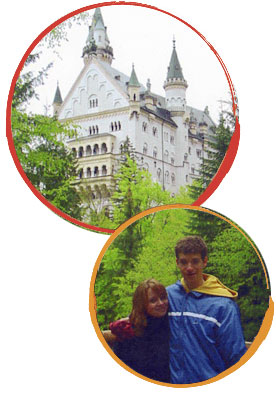 Long-Term and Short-Term Exchanges

Rotary has both long-term and short-term exchange programs. The former is for the full academic year while the latter is usually during summer vacation. Students for either exchange are selected by a sponsoring Rotary Club on the basis of a written application and personal interview.
Requirements

• Must be between 15 and 18 1/2 years old at the time of departure
• Average or above academic achievement
• Outgoing and adventuresome
• Flexible and open to living in a different culture

Youth Exchange is open to the children of Rotarians as well as those of non-Rotarians.
When students return, they will be asked to share their experiences with family, friends, Rotary Clubs, their school and community so that other young people can learn about Youth Exchange and our global neighbors.
Long-Term Exchange
Students spend a full academic year with two or more host families beginning in late summer. Host parents provide room and meals as well as support and guidance. The host Rotary Club provides a limited monthly spending allowance, a counselor, and supervision.
Although parents should be prepared to cover travel, health insurance and a few other costs for the outbound student, Rotary arranges travel and assists with visa arrangements. In some cases scholarships may be available to help defray exchange costs. Talk to your local Rotary Club orRotary District Chairperson about your individual situation.

Short-Term Exchange
In a Summer Cultural Exchange, students spend three to six weeks in their host country visiting with another family and seeing another part of the world. The ESSEX Short-term Exchange Program arranges for the student's family to host a matching student from another country in return. This program provides an excellent opportunity to experience a new culture in a brief period of time. Like the long-term exchange, the short-term exchange requires a sponsoring Rotary Club in each country, and students are selected on the basis of a written application and interview process.

The Interview Process
You should contact your local Rotary Club for details on how to apply. If the club decides that your application matches their opportunities, you will be interviewed by the local club in the fall and your application sent on to the Rotary District Youth Exchange Committee for a second round of interviews. Final selection is made by the Rotary District and usually occurs in the late Fall. Orientation sessions during the months prior to departure help prepare students and parents for both outbound and inbound experiences. Students participating in the academic year exchange usually leave for their overseas adventure in mid- to late August (summer) and return at the end of the academic year (generally mid- to late June).
Short-term exchange students may undergo a somewhat less stringent interview process during the winter or spring prior to departure.