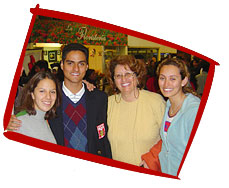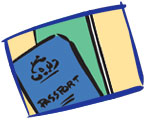 Parents, we know that you may have concerns and questions about Youth Exchange. This section is designed to address those questions.

Internationally Approved Standards for Educational Travel

The ESSEX Rotary Youth Exchange Program is a member of the Council on Standards for International Educational Travel (CSIET), a nonprofit organization committed to setting standards for international educational travel and to monitoring compliance with those standards. ESSEX Youth Exchange Program is also approved by U.S. Department of State (USDoS) and Department of Homeland Security.

Cost

Other exchange programs cost from $7000-10,000. It is estimated that if the student paid for all the expenses for a cultural/study year in another country it would cost up to $10,000, or more. So, essentially the Rotary Youth Exchange Program is a scholarship which covers the majority of the cost of a year living and studying abroad.

Rotary's Long-Term Youth Exchange Program is much less expensive than other exchange programs. It is organized and administered by volunteer Rotarians and their families, working through local Rotary clubs, Rotary districts, and regional levels like ESSEX. As volunteers, they screen applicants, select the students, prepare them, and arrange for host families, visas, travel, insurance, school admission, etc. Host families are selected on the basis of quality, not because they are compensated.

Because the program is staffed by volunteers, Rotary is able to make youth exchange opportunities accessible to young people of all backgrounds and economic means. In some cases there may be scholarships to help defray those exchange costs that are normally borne by the parents. Talk to your local Rotary Club about your individual situation.

Parents of outbound students pay for:

- an application fee, insurance, passport/visa costs, airline travel, clothing, extra spending money, and optional trips and tour costs.

- orientation and/or processing fees which vary from district to district.

- a small fee to the ESSEX-approved travel agency for travel planning services, which include obtaining visas and providing country- specific information.

- additional exchange-specific costs for such items as special school trips, extracurricular activities or optional extensive sightseeing trips.

Host Rotary clubs pays the following for inbound students:

- all basic costs like school tuition (where applicable), a home and food.

- transportation to school and some activities.

- Approximately $60-$100 per month spending money (varies by country).


Academic Standing and College Entry

Some U.S. high schools accept credits from foreign schools; however, this depends upon your school system and the foreign school. To get credit, your child must make arrangements with your local school principal prior to his or her departure.

Some students do their exchange following their graduation from high school and before they start college. The exchange experience usually enhances a student's resume and application. Most colleges and universities look on the exchange experience as one of growth and expansion of the student's capabilities, drive and perspective. Often colleges will defer admission for a year while a student experiences life and additional study in another country. Some universities give up to six credits for a foreign language, but your child must apply for it with his or her particular school's administration.

Being away in a foreign country has a powerful broadening and an accelerating effect on your child's maturing process. Managing their finances and making decisions influence their independence. They develop a confidence in speaking before groups. They develop a tolerance toward the life, culture and personalities of other people. And they become fluent in the language of their host country. They experience people, situations and personal growth they wouldn't experience at home. All of this makes them better equipped to handle college life. For many, it provides more focus on what they want to accomplish in college and after they graduate.

Safety

The Rotary Youth Exchange Program is one of the safest exchange programs in the world. Because we work with Rotarians at the local club level, great care is taken to ensure the safety of students. Students are required to sign an agreement to avoid activities that could lead to dangerous situations such as driving, drinking or drug usage. They are counseled before leaving their home country on how to best manage themselves in the foreign culture. In addition, ESSEX has a Sexual Abuse and Harassment policy and procedure designed to protect every student that is in the care of our Rotary clubs. Similar policies and procedures are required for our international partners.
The Youth Exchange program also monitors situations in our partner countries. When countries are determined to be high-risk areas, they are taken off the exchange country list.

Supervision, Guidance and Counseling

Our supervision and guidance are simply superb. We take our surrogate parenting responsibilities very seriously. Great care is taken to select host families, and local youth exchange officers serve as counselors to students. Because the exchange is established through local Rotary clubs, club members are directly involved in the welfare of these students. Students often attend Rotary club meetings. They get to know Rotarians who are generally the local business and professional leaders of that community and can assist with problems that arise. At times of immediate need, students who are away from home are more comfortable knowing that Rotarians of their host club are available to help and offer guidance.

Travel while on Exchange

While this is not a tourist program, supervised travel is sometimes available through the host families and members of Rotary Clubs. Also group tours, in some countries are offered by Rotary which is at the student's expense. These group tours are optional.
Each student and family must agree that the exchange will be governed by the Rotary Rules.